Phu Yen is one of the most amazing places to explore Mother nature for travelers in Vietnam. Nevertheless, many might wonder what about the local cuisine in such a deserted land? Phu Yen is a coastal region that offers a diversity of seafood but there's still more. Let Sala Hotel Group have the honor to present to you Phu Yen's specialties and their original taste.
Bánh hỏi lòng heo (Fine rice vermicelli with pig's organs)
Bánh hỏi the fine rice vermicelli woven into bundles is always best served with thin-sliced pig organs which is the specialty of Central in general and Phu Yen in particular. Besides a small bowl of savory dipping fish sauce, the tiny ingredient for the specific flavor of Bánh hỏi in Central Vietnam is the small chives.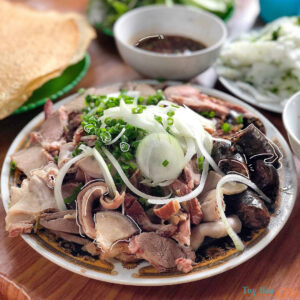 Adding on top bánh hỏi a chewy and crunchy piece of organs, a few green accompaniments, dipping it and feel your taste buds chanting in the mouth.
Where to eat:
123 Dien Bien Phu, Ward 7, Tuy Hoa City
156 Nguyen Hue, Ward 7, Tuy Hoa City
184A Truog Chinh, Ward 7, Tuy Hoa City.
Mắt cá ngừ đại dương (Stewed tuna eyes)
As one of the largest tuna fishery villages in Vietnam, mắt cá ngừ stewed tuna eyes are one of the symbolic foods of Phu Yen cuisine. The locals eliminate the fishy smell from the tuna eyes with the warm touch of pepper, special herbs, suitable seasoning then setting it on the flame.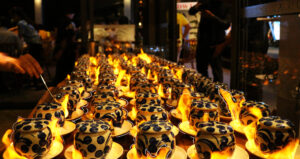 The fatty, umami flavor of the tuna eyes that many adventurous diners enjoy. Setting aside the ordinary way you used to eat fresh fish, this make-your-eyes-twitching dish surely cannot be missed when you visit Phu Yen.
Where to eat:
Stewed Tuna Eyes Sala Tuy Hoa Beach Club 51 Doc Lap, Ward 7, Tuy Hoa City
Bà Tám 289 Le Duan, Ward 7, Tuy Hoa City
Bò một nắng-muối kiến Phú Yên (Dried beef with yellow ant salt)
A fierce signature dish, Bò một nắng muối kiến, which might scare some away but let's give yourself a once-in-a-life-time chance when you visit Phu Yen. Bò một nắng (sun-dried beef) is carefully chosen from the cows grazing naturally on dunes and grasslands, thus, the meat is deliciously firm and tender at the same time. The beef' loin and shank is well-seasoned with spices: garlic, chili, pepper, fish sauce, salt, etc.

But this dish wouldn't be so famous without the remarkable 'backup singers', muối kiến vàng (yellow-ant salt). Not only does it have a lovely sour, buttery taste of the yellow ants, hot chili, and salty flavor (of course); but also muối kiến vàng contain a variety from proteins to acid amines, etc. It's also a perfect souvenir for your new-experience friends and yourself.
Where to eat and buy souvenirs:
247 Le Duan, Ward 7, Tuy Hoa City
Along the road to Son Hoa (Van Hoa Plateau)
Bánh Canh hẹ (Chives noodle soup)
Bánh Canh (rice noodles) is so familiar food for every Vietnam' food lover, so what are the special factors that make Bánh Canh hẹ into this must-try-food list in Phu Yen? The fresh fishes, the light umami flavor broth, or the generous amount of julienned small chives? The answer is all of them.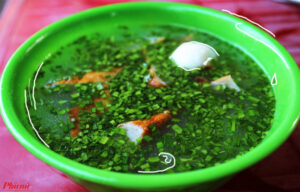 Bánh Canh hẹ Phu Yen's appearance seems like a proud painting of how green Phu Yen nature has been till now. And when we have a deeper "look" at the clear broth skillfully cooked with fishes bones, it's unstoppable to slurp every single drop left in the bowl. The thin chewy stripes of rice noodles with slightly fragrant chives go so well with the fish paste, torn fish meat, and quail egg which is guaranteed you will have an appetite next time.
Where to eat:
Bánh canh hẹ Bé Bông, 117 Dien Bien Phu, Ward 7, Tuy Hoa City
Bánh canh hẹ 89 Nguyen Hue, Ward 2, Tuy Hoa City
Bánh canh hẹ Thành Tâm, 53 Dien Bien Phu, Ward 7, Tuy Hoa City.
Well, that's must be it, quite a check-list of tempting, quirky foods of Phu Yen, you think. But no!
Please save your imagination and more space in your stomach to continuously unveil Phu Yen cuisine with us Sala Hotel Group in the next article.
Restaurants might change their location/operating hours or close without notice. If you find any detail that is out of date during your visit, let us know at info@saladn.com.