Not only does Danang city attract tourists with the dazzling, gorgeous beach but also its varied tasty cuisine. Sala Danang Beach Hotel will introduce the top must-try food in Danang which will whet your appetite even for the picky eater.
Mì Quảng
Mì Quảng is a pretty popular food in every region of Vietnam. Nonetheless, the taste only shows its best original version in Danang. The thickness and slightly chewy noodles are made from rice flour. On top of the greens and noodles is stew pork, chicken, shrimp, and typical Vietnamese sausage mingling with the savory bone stock.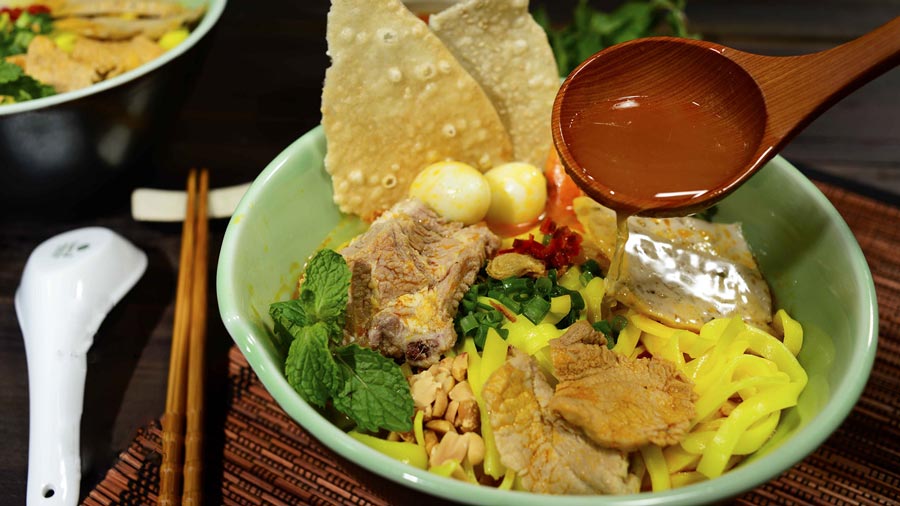 Mì Quảng location's suggestion in Danang:
Mì Quảng Thi: 251 Hoang Dieu, Hai Chau District, Danang.
Mì Quảng Bà Mua: 19 Tran Binh Trong, Hai Chau District, Danang.
Mì Quảng Bà Vị: 166 Le Dinh Duong, Hai Chau District, Danang.
Bún Mắm Nêm
Dried noodles recipes are another choice in the dried heat of Danang instead of the noodles soups as usual. Bún mắm nêm is a perfect combination with bún (vermicelli), boiled pork, crunchy pig's ear, green accompaniments and the key factor that decide a finely balanced bún mắm nêm bowl is mắm nêm.
The stinky aroma from fermented anchovy sauce is a bit strong at first but this well seasoned bún mắm nêm is one of the most enchanting dishes in Danang city.
You can watch attached video from VTV Travel to understand the embracement of Vietnamese people to Bún mắm nêm Bún mắm Bà Đông Đà Nẵng 
Bún mắm nêm location's suggestion in Danang:
Bún mắm Ngọc: 20 Doan Thi Diem, Hai Chau District, Danang
Bún mắm bà Vân: 23/14 Tran Ke Xuong, Hai Chau District, Danang
Bún mắm bà Thuyên: K424/03 Le Duan, Thanh Khe District, Danang
Gỏi cá Nam Ô- Nam O raw fish salad
Gỏi cá means raw fish salad is Vietnam's local specialty, and one of the tastiest raw fish salads is from Nam O fishing village in Lien Chieu District, Danang city. Gỏi cá Nam Ô is made from well-prepared, fresh fish (including herrings, anchovies, and sardines), vegetables, and finely seasonings sauce.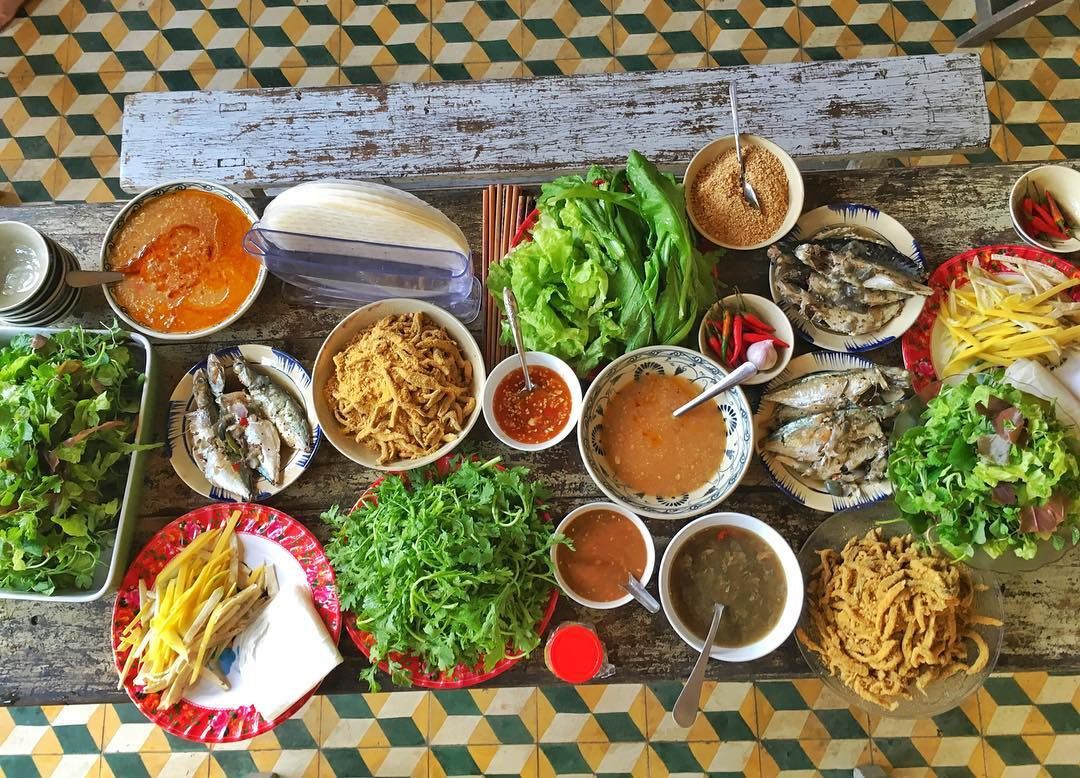 There are two ways to enjoy Gỏi cá Nam Ô: fish fillets mixed with flavorful seasonings roasted corn powder, lime, minced garlic, ginger are wrapped in rice paper and greens. The other way perfectly traps your taste buds with the fresh fish dipping infamous Nam O fish sauce with julienned chilies.
Cao Lầu
Cao Lầu is quite similar to Mì Quảng, however, Cao Lầu noodles making method is a challenging process. Its specific brownish color, chewy flavor are the unforgettable outcome from local rice flour, Cham well's water, and lye mixture. Cao Lầu can be found worldwide created by its lovers, though, the unique taste of Cao Lầu isolatedly remains where it has been created.
Let's continue on our Must-try food in Danang 2021 for rainy days (Part 2)
Restaurants might change their location/operating hours or close without notice. If you find any detail that is out of date during your visit, let us know at info@saladn.com.
You can update more Sala Danang Beach Hotel News & Promotions at our website Salahotelgroup.com. We wish you have a safe and relaxing vacation!