Phu Yen remains a hidden coastal gem in Vietnam, so let's make sure you spend at least 2 to 3 days to fully discover it. For those who truly need a break from the noisy, fast high-tech life to reconnect to their inner self with nature, Sala Hotel Group proudly introduces these best magnificent natural places to visit in Phu Yen.
Gành Đá Dĩa (Da Dia Reef)
About 36km from the city center, Da Dia Reef, located in Tuy An District, is one of the most famous gifts bestowed by Mother Nature to Phu Yen Province. It was recognized as a National Heritage site in 1998 as the extraordinary shape of the stones (Gành Đá Dĩa translating is stone plates reef).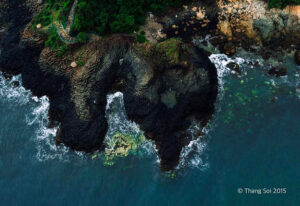 The shape form as round, pentagon, hexagon basalt stones stacked in layers by the ocean (estimated roughly 35,000 stone columns) because of the 200 million years volcanism process in Van Hoa Plateau. After the lava met cold water, creating picturesque shapes and now looked like the giant black honeycomb.
Photo credit: internet
Núi Đá Bia (Da Bia Mountain)
If admiring the beautiful scene of Phu Yen is not enough for you, let's conquer the fascinating Da Bia Mountain instead. Taking about two hours of climbing steps to reach the top, Da Bia Mountain is one of the highest mountains of the Ca Pass, located in Dong Hoa District.
Photo credit: internet
On the top of the 706 high-mountain is a humongous stone (Đá Bia), an iconic making the mountain outstanding. The Da Bia Mountain attracts tourists not only its breath-taking sights, cool fresh air but also the increasing diversity of the natural species and the habitats followed every step uphill.
Credit: dimotngaydang-insta
Da Bia Mountain also plays an important role in the spiritual life of the locals (former Cham people and Phu Yen's ethnic groups) through literature, stories, songs, etc. as a long-lasting and meaningful iconic in their lives.
Cầu Ông Cọp (Ong Cop Bridge)
The longest wooden bridge in Vietnam, Ong Cop Bridge, is another stunning sight in Phu Yen. Ong Cop Bridge's length is roughly 800m and width 1.5m which used since 1999 till now. The bridge structure is fully made of casuarina, a eucalyptus tree, and barriers with bamboo so only motorcycles and pedestrians can pass.
You will find a pile of casuarina woods under the bridge to repair any broken planks. Ong Cop Bridge is a shortcut between villages across the Binh Ba river for locals, besides other famous destinations like Da Dia Reef, O Loan lagoon, etc. for travelers. This Ong Cop Bridge is famous for its peculiar rustic charm and the peaceful harmony of mountains, turquoise river, and natives' daily activities surrounding the bridge.
Credit: internet
Let's have a closer look at the best places to visit in Phu Yen by clicking the below link before you continue with more of the natural landscape in our next travel guide "Top places to go in Phu Yen (Part 2)" https://salahotelgroup.com/?p=1812&preview=true
https://www.youtube.com/watch?v=5t5beAI-OcI