Being beautifully tempting as its land, also Phu Yen cuisine knows how to capture every diner's heart even when they get back home. Sala Hotel Group can not wait to show you more of it so let's go straight to this part 2, after the What to eat in Phu Yen 2021 (Part 1).
Chả Dông (Salamander spring rolls)
Dông (the salamander) is from the reptile family, often enjoyed by mostly locals since the image of Dông might freak many tourists. However, just like making a typical spring roll, after being properly processed and grounded, the meat is marinated and mixed with familiar spices: shallots, chili, pepper, garlic, lemongrass, lard, and wood-ear mushrooms. Hot oil, deep-fry, and voila! And if you are an adventurous traveler, will you give the grilled salamander a try?
Where to eat:
Linh- Chả ram dông & dông nướng: 90 Nguyễn Công Trứ, TP. Tuy Hòa
Sò huyết đầm Ô Loan (Blood cockle of O Loan Lagoon)
Sò huyết (Blood cockle) of O Loan Lagoon, ranked at top of the list not only Vietnamese but also foreign tourists since having the most delectable and unique taste. Aside from O Loan Lagoon's spectacular landscape, sò huyết here is exquisite because of the water environment of salt and fresh water.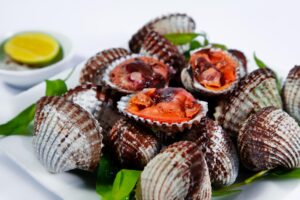 It's an ideal condition for varied and rich in quality seafood: shrimp, crab, fish, oysters, etc. especially our diva here- sò huyết. All diners have the appetite for this amazingly juicy and rich meat of sò huyết, thus, the stir-fried blood cockle with chili salt is mostly chosen (besides grilled, stir-fry with tangerine, steamed or even salads).
Where to eat: O Loan Lagoon Coordinate
Bún bắp (Corn noodles)
Bún bắp's homeland is Tuy An district, Phu Yen, which is not famous in the noodle family as its heirloom recipe and the complex, time-wasting production with low interest. In the process, noodles chose from high-quality corn kernels and it goes through roughly 1 week to create the final product.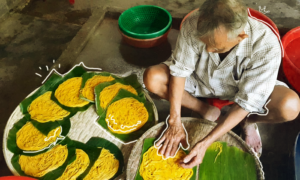 The longest-lasting family making bún bắp in the village is cụ Hồ Đắc Kia, who is so energetic, eager to pass his traditional craft to the young generation. Bún bắp texture is quite chewy. It has a lovely corny fragrance with golden yellow strings. As long as the chef makes it simple, bún bắp can be tastily as well as healthily enjoyed in numerous ways.
Where to eat:
You can click the link below to check out more Phu Yen natural sightseeings and the freshness' seafood on the floating restaurant. This Khoai Lang Thang Youtuber and his high-quality video (English subtitle is available) will show you more about why Phu Yen is growing in every travelers' heart.
Are you ready to be one of us? DELICIOUS SEAFOOD in Phu Yen- Khoai Lang Thang Youtuber