If you visit Danang on rainy days, for sure you will be enchanted by the numerous options for food in Danang. This continues must-try food in Danang part 2 which makes sure you won't miss any flavorful dishes for your food tour.
Must-try food in Danang 2021 (Part 2)
Bánh Xèo
Bánh xèo is enjoyed by everyone of all ages throughout Vietnam, however, each region shows its cuisine characteristic in Bánh xèo. The difference is in the batter, dipping sauce, side accompaniments, and of course the abundance toppings. Bánh xèo requests the complicity and diligence at every step by the skillful hands. Only the top-list rice from Quang Nam choose and thoroughly soaked for 4 hours, finely grounded, and later well-mixed with a suitable amount of turmeric powder which is not only for color but also for health benefits.
After sautéing the toppings with bean sprouts, an exactly precise amount of batter pours into the hot and sizzling skillets. Why precise you ask? Too much batter Bánh xèo is impossible to be crunchy, while too little batter means unequal sizes. The unlimited options in Bánh xèo toppings are guaranteed to whet your appetite from fresh shrimp, squid, beef, or even eggs.
Bánh xèo location's suggestion in Danang:
Bánh Xèo Bà Dưỡng: 280 Hoang Dieu, Hai Chau District, Danang.
Quán Bánh Xèo Miền Trung: 14 Hoang Dieu, Hai Chau District, Danang.
Seafood noodles
Danang seafood is known for its freshness and diversity, hence, the seafood noodle is also another must-try dish in Danang for you. The sweetness and savory in stock decide by seafood freshness such as mantis shrimp, squid, clamp, etc.
The locals skillfully embrace seafood flavor by finely combining the sweetness, sourness, and spiciness tastes from vegetables. Won't you have a taste of seafood noodles to guess the 'harmony dance of tastes' in your mouth from which ingredients?
Seafood noodles location's suggestion in Danang:
Bún hải sản Thanh Hương: 05 Nguyen Chi Thanh, Hai Chau District, Danang.
Bún Thái hải sản Bà Liên: 100 Phan Thanh, Thanh Khe District, Danang.
Steamed Chíp Chíp Clams with lemongrass
Chíp chíp is a lovely sound Danang natives name their specific clams, which are shell habitats in the Han River and rarely can find it anywhere else.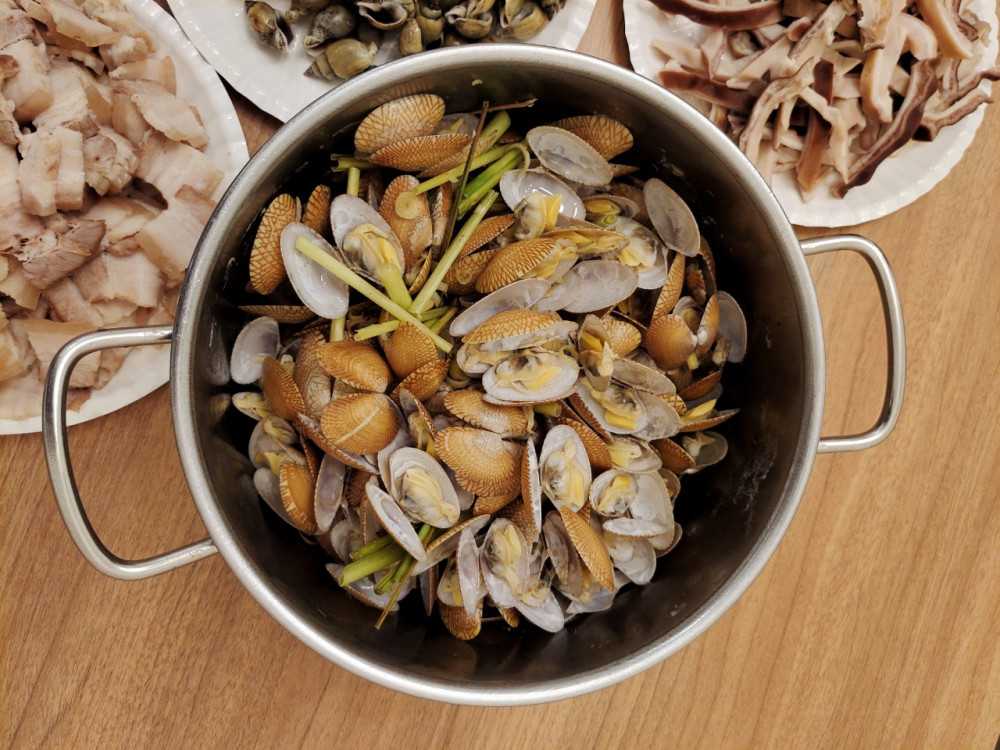 Chíp chíp in Danang shares similarities with silk clamp's shell, and the difference is size and taste. Chíp chíp contains several varied vitamins and iron, so this dish is not only amazingly savory but also beneficial for your health. While cooking methods are diverse: grill, congee, or soup, etc. steamed chíp chíp with lemongrass takes the best out of its freshness.
Bánh Đập
Bánh đập is a favorite snack with Central people because of its simplicity, nonetheless, mouthwatering and uniqueness. Bánh đập is the combination of layers of grilled thin rice paper and steamed pancake. Your bare hands will "do the hard work" to enjoy it with a special dipping sauce: fried shallots, crushed peanuts, chilies, and fermented anchovy sauce.
Bánh đập location's suggestion in Danang:
Bánh Đập: 139/10 Trieu Nu Vuong, Hai Chau District, Danang.
Bánh Đập Bà Tứ: 354 Le Duan, Hai Chau District, Danang.
You can click the link here http://Best Street Food in Danang!!! to find out more about Danang street foods.
Restaurants might change their location/operating hours or close without notice. If you find any detail is out of date during your visit, let us know at info@saladn.com
To be notified about Sala Danang Beach Hotel News & Promotions, please check our website Salahotelgroup.com. We wish you have a safe and relaxing vacation in Danang!